Praise the Lord!  We had our first service in our new "home" August 16th.  We had a great turnout for a work day to get some projects finished in order to hold the first service and enjoyed a great day of fellowship as well!  Below is just a sampling of what took place….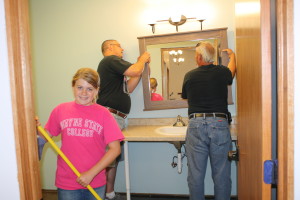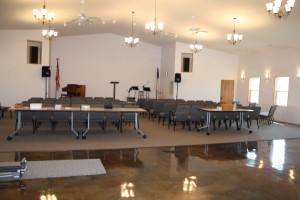 ———————————————————————————–
After carpet pictures…
Before carpet pictures…
Kitchen is nearly complete with cabinets in place!
Kitchen cabinets are in the building, ready to be put in place.  Carpet is set to be laid on August 4th.  We are now looking at our first church service to be August 16th!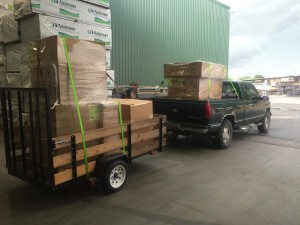 Sneak peak at the floor in the new church building. Carlo stained our cement…it looks AWESOME!  This is before he applied the sealant.  Next, carpet will be in soon, cabinets and countertops!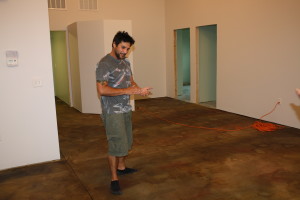 Carlo worked hard on our floors; he went far and above what we asked of him.  Thank you Carlo!  This is before he applied the sealant; it's now shiny!   More pictures soon.
Painting day did arrive on May 30th, here are some snapshots of our day.  We had some help from our mother church, Sherwood Community in Council Bluffs.  We enjoyed some music and a BBQ lunch at noontime!  Thank you to all who helped us!!!
The sanctuary lights are hung and look wonderful!
We had a time of prayer before getting started and listened for our directions.
Even some our youth came to help.
Jeff, Dave and Jill – our lunchtime entertainment!
Glenn!
Dan & Michelle!
Shirley & Sue got sent to the attic!
Jordan!
Pastor Ray!
Chris!  We have some high ceilings!
————————————————————————-
Mud and taping is done, ceiling finished!  On to painting, Lord-willing, on May 30th!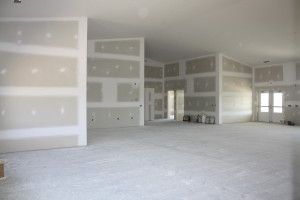 Day three of drywalling:
Day two of drywalling: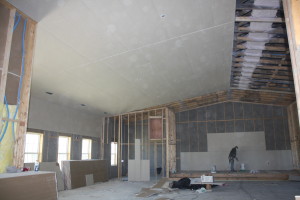 What a difference a day makes…the drywall is going up! Picture 1 of 4 – April 13th
It was great weather for a work day, pulling up silt fencing, filling in holes and laying grass seed!  March 14, 2015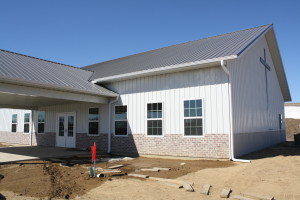 March 7th – Gutters and downspouts are on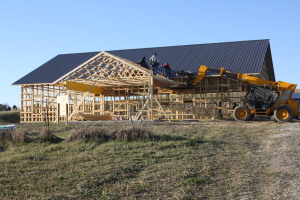 November 4th – the roof is on!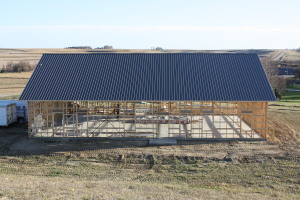 November 4th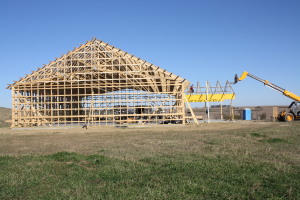 October 29th
October 10, 2014